SMEs need insurance to fend off cyber attacks
Bringing together cyber insurance with technologies and cybersecurity services is the right global solution to protect SMEs against cyber attacks.
When confronted with this cyber attack pandemic, we have a natural tendency to think that technology, and technology alone, will do the trick to fight back. However, while technology does play a pivotal role in protecting against cyber attacks, something else can also do its part in cyber protection and that is insurance.
SMEs though, more and more exposed, are barely starting to realize that. And most of the time the wake-up call is pretty violent!
Faced with both technological and financial constraints they nevertheless need solutions they can afford and that provide three essential features: risk prevention, problem solving and the financial protection that goes with it.
But, what happens is that SMEs are having a hard time finding solutions that provide those 3 features. One reason for this is that these 3 features are still not considered to be the components of an efficient cyber security package (risk prevention and problem solving are often addressed together while insurance is dealt with separately). Another reason is that there is no SME offering to speak of, or when there is one, it is not properly SME-marketed or branded. The take-up of cyber insurance is pretty low for the time being in the SME market while the majority of marge corporations have already signed up for cyber insurance coverage.
SMEs, cybersecurity professionals and experts are all oblivious to cyber insurance also contributes in addressing the considerable damage caused by cyber crime in a major way.
Indeed, because cyber insurance is here to compensate the victims for the damage done, it is also part of the protection package. Hence, financial protection goes alongside the other forms of cyber protection provided by technologies and makes for a perfect complement.
Towards full-fledged security
Addressing cyber risk management is not only a matter of technology. In order to be efficient and resilient SMEs can considerably improve their cyber security capability to fend off attacks by investing in solutions that offer cyber insurance and the latest in cybersecurity technologies and services.
The current insurance distribution model needs to be adapted to the situation at hand. A new ecosystem of partners including insurance companies (that have thought up cybersecurity-specific insurance policies covering goods and responsibilities), multi-risk insurance brokers as well as cybersecurity players, has to come up with a global service model. This "Holy Trinity" of cybersecurity will provide turnkey solutions via an easy-to-use sales platform that can get SMEs to safety very quickly.
Combining technologies and cyber insurance policies is like providing SMEs with an authentic safety net or umbrella that will work to flag system flaws early on and cover all cybersecurity aspects of a business especially SMEs and very small companies for complete peace of mind of their owners. Hence, and advanced insurance-technology bundle is in itself a powerful and complete protection package.
The recipe for success
Of course, cybersecurity companies can provide these offerings. But the "point of sales" can also be multi-risk insurance brokers. SMEs can now turn to several market players to get a cyber security package that can efficiently reduce risk, prevent cyber attacks, cover them financially, allow them to file claims easily and quickly while providing awareness tips and support.
Here are the five ingredients for success for a full-fledged security model:
– Ingredient n° 1: Reducing risk (identifying and fixing)
With automated vulnerability identification tools, such as Artificial Intelligence-based virtual hackers, and remediation-as-a-service offerings, SMBs mitigate significant risks by addressing potentially disastrous vulnerabilities.
– Ingredient n° 2: Preventing cyber attacks
Cloud-based security services offer powerful, yet easy-to-use solutions to prevent cyberattacks and protect against malicious content.
– Ingredient n° 3: Financial protection (peace of mind)
When the worst happens, and it probably will someday (if it hasn't already), SMB owners need to deal with the situation. Financial protection, coupled with technology, can help them get back on their feet quickly, recovering the cost of expenses such as data restoration, notidying customers, public relations services, legal/professional fees, forensic data analysis, etc.
 – Ingredient n° 4: A quick and simple process to file a claim
All financial protections always look great… on paper. Here, they need to be supported by a fast and simple claims process that puts the customer experience first. As such, cybersecurity technologies help speed up the claims process by providing much-needed information.
– Ingredient n° 5: Support & Training
In order for agents to effectively advise on cyber insurance that incorporates cybersecurity technologies and services, they need solid training. Partner companies specializing in cybersecurity can deliver that training.
The time has come
Every news report about the latest data breach and/or cyberattack should make SMB executives realize that their company could be the next target. A drastic change in mindset and approach in managing their risks is called for. In a landscape where threats are ubiquitous, multifaceted and growing, SMBs need to adopt a hybridized cybersecurity approach incorporating insurance if they want to survive.
With such a comprehensive protection package, multi-risk insurance brokers can provide small business owners with some peace of mind, greatly appreciated in these challenging times, while providing a truly valuable service to the nation's economy.
This should be a great insurance policy for SMEs!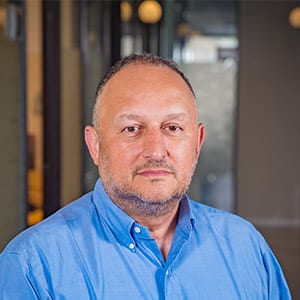 Avi Bartov
CEO et Co-fondateur
Avi a commencé sa carrière comme directeur général du département sécurité générale d'ICTS France, leader de la sécurité aérienne en Europe. Il fonde en 1995, CBI (Consulting on Business Intelligence). Entre 1999 et 2005, Avi dirige et est associé dans Adanet Consulting. En 2006 Avi créer GamaSec pour exporter l'expérience et l'expertise israéliennes en matière de cybersécurité sur le marché européen. en 2018 GamaSec a developé sa propre technologie de « hacker virtuel ». En 2022, il lance Menaya.