Victime of cybercrime… no more!
Today, almost everyone feels like they really can't do much about cyber crime. Cybercriminals are known to be quite clever, gifted and efficient in finding ways to break into the IT systems of companies and organizations. They use different means to commit those malicious activities that many business leaders fear. Because of the lack of proper solutions and their limited means, SMEs are sitting ducks for cyber security breaches. They are increasingly being targeted by cyber criminals. 
But victimhood is not a virtue unless you really are a masochist. But then again, to each his own…but SMEs should gear up and stop falling prey to cyber criminals.
Fortunately, there are different "weapons" available that can help you avoid having that cyber threat constantly hanging over your head like the sword of Damocles. A whole array of solutions are out there for SMEs to efficiently protect against dire economic consequences that could result from a cyber attack. But, to no longer be a victim of cyber crime, you still need to get some training on handling these weapons.   
The best defense is not a good offense
The very first of these weapons is adopting a new point of view on the subject. Contrary to popular belief, the best defense here is not a good offense. A successful attack plan implies being able to identify your opponent and knowing him well. However, in cyber crime you are fighting against an invisible enemy and so being able to anticipate is therefore your best defense.
Cybersecurity, most of the time, is experienced in reactive mode. Nothing really happens until you get hit by a cyber attack – only then do you get fixing and repairing. This is partly what is meant by "remediation." Indeed, most cybersecurity experts remediate, that is, prescribe and apply remedies. This means doing something after the fact and trying to keep all the related collateral costs of the attack as low as possible. 
This new stance on cybersecurity implies moving away from that "Attack-Identifying the Attack-Repairing the Damage" pattern and going into a preventive mode that foils cybercrime, drives hackers away to try other easier targets i.e. away from your systems.  The idea being that wherever you can be attacked, you do what it takes to make sure that you don't get attacked.    
But, of course, this new take on the subject only makes sense if you have got the right innovative technologies to do so. Cyber defense weapons are now available for SMEs to use as a powerful deterrent.
Thus, the second part of this arsenal designed to keep cybercrime at bay is composed of solutions based on cutting-edge technologies designed to detect vulnerabilities in military and governmental environments, enabling remediation before attacks happen. This means that the cure becomes the antidote.
These technologies, coupled with artificial intelligence and machine learning, consist in developing virtual hackers to monitor the IT systems in real time with online scanners that flag vulnerabilities of infrastructures without interruption. With assessment tools to measure the cybersecurity maturity index of companies. With cyber security awareness campaigns and penetration testing to check for exploitable vulnerabilities. With daily scanning schemes to detect potential malware, blacklist monitoring and WAFs to help defend against application layer DDoS attacks and so on…
Much like the ethical hackers (a.k.a. the "White Hats"), these virtual hackers (human or robotic) use cyber honeypots as decoys to lure hackers away from legitimate targets. These honeypots change their patterns automatically after each attack so that they can't be identified in the future. They can actually detect and prevent attacks in real time.
These robots monitor Information Systems nonstop, not just when a breach is detected. Designed to learn from previous security breaches, these tools hone their approach to protect against future breaches to come. With a much larger scope than the traditional security products, these automated solutions protect against malware while learning about new attack patterns in real time via Machine Learning. Constantly on the lookout for new vulnerabilities, they scan and update each application system daily with new patches. This ensures round-the-clock protection without having to worry about running any kind of manual program.
Taking the appropriate actions  
However when cyber criminals do manage to commit their malicious activities (indeed some are in fact quite talented) another cyber security aspect kicks in, that of insurance.  
Insurance offers peace of mind to SME decision makers and helps them face, the often devastating, economic consequences of an attack on a small and vulnerable business. It is an integral part of any protection package and should now be considered as part of the anti-victim arsenal of cyber-malware.
The cost of these highly technological devices is now affordable for SMEs. In any case, that cost will always be lower than the cost of the damage and repair caused by an attack that, in many cases, leads to bankruptcy of the company.
This arsenal is an extremely effective way to take back control of the digital future of a company. Taking action before being subjected to an ill-intended act is the way to go. This approach, inspired by hackers, gives them a taste of their own medicine, neutralizing their capability to inflict harm. This will help break free from the shackles of being a cyber victim.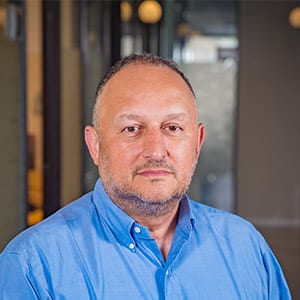 Avi Bartov
CEO et Co-fondateur
Since 1995 Avi began his career in Business Intelligence and Information Protection through multiple leadership roles including acting as the General Manager of ICTS France, founding Consulting on Business Intelligence and directing the Adanet Consulting company. In 2006 Avi founded GamaSec exporting the Israeli expertise in cyber security to the European market. In 2018, GamaSec developed its own "virtual hacker" technology. Avi launched Menaya together with international partners.